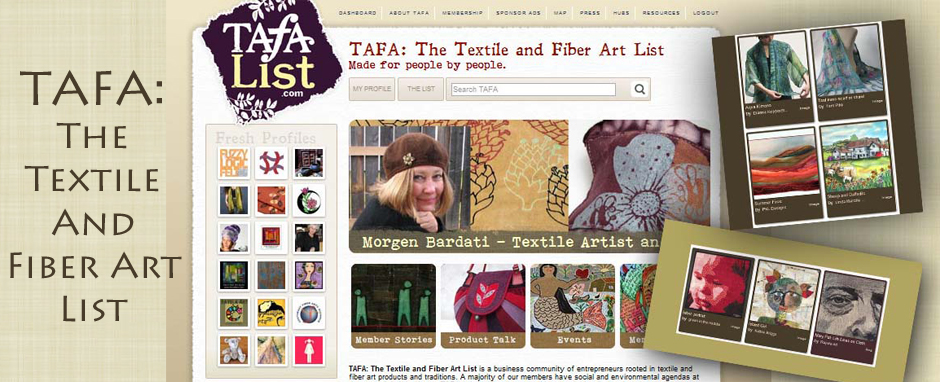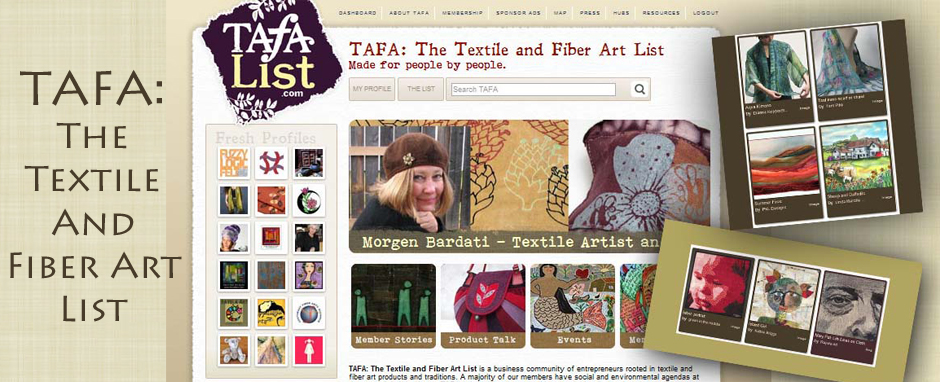 TAFA grew out of a recognition that there were many of us out there scrambling to sell our work and products without organizing in a strategic way.  I kept bumping into several peers as we struggled to understand the new social media frontiers.  It seemed to make sense to band together and create a presence in these places rather than trying to go at it alone.  As artists and small textile businesses, we have enough on our plates to take care of: production of products, marketing them, photographing, designing sites, shipping, billing, keeping track of inventory and paperwork.  It's a lot!
I launched the site using a Blogger blog and by the end of the first year, it was clear that we would need a professional site with a powerful search engine and member profile pages.  By January 2012, we had over 400 members from 35 countries.  The diversity and quality represented is amazing!  I am very proud to be a part of this group and am committed to see it grow into one of the major destinations for the textile and fiber art community.
TAFA's goal is to help ease some of that burden by bringing together talented small businesses and working artists with a handmade textile focus into a business group and support community.  We have created hubs on several of the major sites (Facebook, Google+, LinkedIn, Etsy, Flickr, and Pinterest) where members are promoted and can interact with each other.  We launched our new site in January of 2012 after successfully campaigning for the funds on IndieGoGo in the summer of 2011.  We had our first group event in Paducah, KY, during their AQS show, renting an empty storefront to sell and exhibit member's work.  Hopefully, more will happen in the future.
These two videos document a bit of our first two years:
Visit TAFA and see for yourself what a wonderful place it is!  Make sure to check out the member map, events, and blogs on the front page.  Click on The List to see our members.  Visit their sites, too, and support them in whatever way you can.