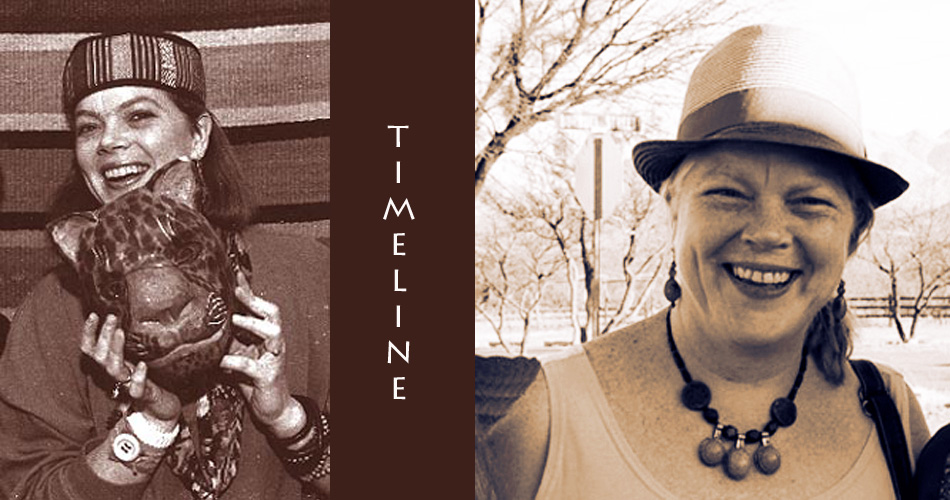 ARTIST WITH A SOCIAL MISSION 
The fair trade movement has informed much of how I integrate the arts with specific economic development goals.  The idea that artists (artisans, crafters, producers…) deserve a fair wage for their time, labor and talent seems like it should be a given.  Yet, not only do sweat shops and slave conditions thrive in developing countries, they also abound in the first world.  And, indie designers and artists face the same fate as the public often expects their labor for almost no compensation. 
These fair trade ideals embody the marriage of my interests: crafts or art that promote economic development through their production and their successful entry into the market.  In my younger years, my entrepreneurial and creative spirit followed the route of learning the ropes of selling my work.  I went through several different phases of making different craft lines, approaching consignment shops, and participating in craft festivals.  This started at an early age (only 15 years old!) with selling painted t-shirts in artisan markets in Brazil.  I struggled to find my niche where I could combine both my interest in social and economic justice with my love for crafts and the people who make them.
I pursued the brick and mortar route, operating several different handmade gift shops/galleries in Chicago.  In 1988, I was hired to run an artisan's co-op there and found my place and my language.  That led to more than twenty years of various retail experiences, mostly in the context of working with small importers who had access to crafts from their home countries.  In 2005, I moved to Kentucky and focused primarily on building my online business and on art commissions that I received.  By then, I had learned a great deal about selling online and continued to teach myself new skills, especially around social media.  In 2008, peers began to ask for assistance with their businesses and I found that I really enjoyed using my experience to help others improve their online presence and performance.  In January of 2010, I launched TAFA: The Textile and Fiber Art List, an organization that formalized many of my experiences into a cohesive platform for textile businesses and fiber artists.
My resumé details some of the concrete work experiences I have accumulated over the years and this website will hopefully illustrate some of that.  My long-term goal is to increase my role as a technical assistant with textile related businesses, especially those which have a social mission.  I can give feedback on the overall presentation of a business (products, logo, website, and social media) and then target problem areas that may need help.  I can help set up the structures people need in order to succeed.
RAYELA ART is Rachel Biel, wearing four hats: 
founder of TAFA

fiber artist

seller of vintage textiles

Technical consultant
SPECIAL INTERESTS:
designing products from recycled materials;

working with small businesses and organizations.

replicating successful models used in developing countries with low-income populations in the United States;

documenting fair trade projects and their actual impact on communities.
---
WORK HISTORY
Co-owner, Dara Tribal Village, with Abdul Wardak of Afghan Tribal Arts, direct importer from Afghanistan. Responsibilities included finding suitable retail space, negotiating lease,  setting up inventory system, purchasing and pricing product, planning events, display and space design.
March-November 2000: Executed two large quilt commissions.  The first was a private commission of three throws assembling t-shirts into personalized memorials, and the second consisted of two small quilts for a conference room at the University of Illinois at Chicago.
November 1998-December 2000: MarketPlace: Handwork of India, a not-for-profit catalog retail operations which specializes in marketing and technical assistance providence to low-income women in India and the United States.  Product heavily emphasizes hand worked women's apparel and, increasingly, fabric accents for interiors.  Contract included role as community liaison and technical assistance provider in product development, catalog production, and marketing.  Responsibilities included program development, research and problem solving for MarketPlace's Helping Others Market Entrepreneurship program.  Reorganized warehouse and updated inventory count.  Twenty hours weekly.
Spring 1997-Spring 2000: Quilting instructor at the now defunct Textile Arts Centre of Chicago.
October 1997-December 1999: Various part-time work with small importers including: Office Manager for The Jade Monkey, importers and wholesalers of Indonesian wood crafts; warehouse work at Neeru's Indian Handicrafts, importer and wholesaler; and office assistant at EarWax Café.
December 1992-September 1997: Owner, FolkArte (formerly known as Pachamama' Hovel), a consignment-based fair trade ethnic crafts retail store which sold products represented by alternative trade organizations, local recent immigrants, refugees, and small importers.  Provided technical assistance to small importers.
May 1989-January 1993: Manager, 4th World Artisans Cooperative, an economic development project of Uptown Center Hull House, a community-based organization in Chicago's most ethnically diverse and densely populated neighborhood. Developed structural base for co-op and membership guidelines, helped members grow their businesses, and participated in transition of co-op to member ownership. Position included full retail responsibilities.
Fall 1987-May 1989: Full-time ceramic artist; held several part-time positions with social service agencies both in direct service and educational capacities. Jobs included work with homeless, mentally ill and children with a focus on Latino communities. Developed craft and after school programs. Taught ESL.
Fall 1985-Fall 1987: Community worker, Chicago Uptown Ministry, a community-based organization run by the Missouri Synod Lutheran Church.  Used arts and crafts in many capacities and on a regular basis.  Client programs centered around disenfranchised groups in a diverse community.  Developed a teen program, after school programs and had staff roles in community food program, a mother/child pre-school program, and acted as a liaison for Latinos.
Fall 1984-Fall 1985: Volunteer, Lutheran Volunteer Corps, a program which provides work experience in a grass roots organization, a stipend salary, and community-living within a Christian context. Worked as a liaison coordinator of programs networking seven inner-city Lutheran Churches in Chicago.
---
CRAFT ABILITIES
 3 years full-time work with ceramics (low fire terra cotta), hand-building, wheel throwing, used commercial glazes. Sold work through stores, commissions and art fairs.

 10+ years quilting (current); create own designs, have taken on commissions and taught.

  Experience in: painting, carving, beading, cross stitch, paper machié, furniture surface treatments, photography, simple weaving, and three-dimensional collages.

  Studied crafts, their techniques and designs from many ethnic groups, and where unable to produce can provide positive feedback on design, structure, and salability.
LANGUAGES
Fluent Portuguese and English, conversational Spanish. Lived in Brazil for eighteen years. Studied in Colombia for one semester in college. 
ACADEMIC BACKGROUND
1980-1984: Bachelor of Arts Degree from St. Olaf College, Northfield, Mn.  MAJOR: Paracollege Program Focus: "Church and State Relations in Brazil", integrating religion, political science and sociology under that theme.  Senior project: Racism in Brazil.

Fall 1982: Urban Studies program through the Higher Education Consortium in Urban Affairs, based in Bogotá, Colombia, lived in a family setting.  Special Project: "Gamines, Bogotá's Street Children".

Spring 1983: Semester at the Lutheran Seminary  (Faculdade de Teologia) in Rio Grande do Sul, Brazil.  Volunteered weekly visitations at a local prison.
TRAVEL
Lived in Brazil for first 18 years of life (1962-1980). Parents were missionaries with the American Lutheran Church and served in German settlements. Know Brazil extremely well. See my blog on our time there, Biels in Brazil.

Other: Panama, Colombia, Peru, Ecuador, Mexico, Paraguay, Uruguay, Jamaica, Venezuela, Germany, Sweden, Spain, France, and Portugal.
TECHNICAL ABILITIES
Computer skills (Word, Excel, Windows Movie Maker, Social Media, decent photo editing, and some web design skills), understanding of break-even analysis,  good basic accounting skills, and writing.
Strengths lie in developing concepts, planning strategies in how to make those concepts reality, delegating responsibility, working with flexibility and having a good sense of humor.
Timeline
[portfolio_slideshow id=947]