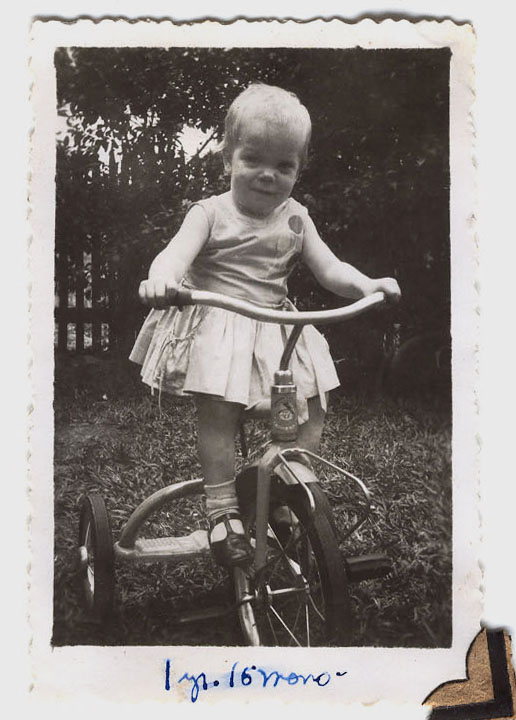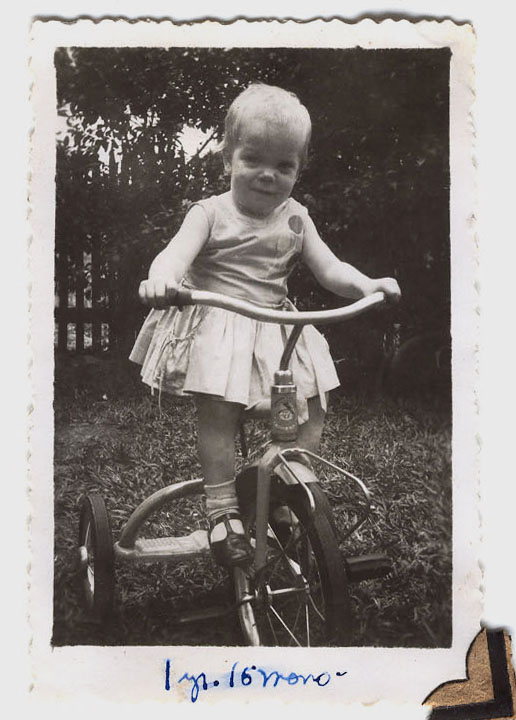 Bikes were a big part of our lives when I was growing up.  They gave us freedom and we rode around the city in packs, rarely getting into trouble, but sometimes coming home a bit scraped up. My brother, Charles, once hit a stone in a wooded area and did a full flip on his bike.  Amazing to watch and somehow he landed, fell and got back up with a big stupid grin on his face.
I still remember the Christmas when I got my adult size three speed bike, all red and shiny…. Wow… what a beauty!  We lived in a mid-sized city in Brazil, Maringá in the state of Paraná. We felt safe, even though stealing was rampant, but people wanted your stuff, not to rape, kidnap or kill you.
For a tomboy, the bike was like a magic carpet, taking you into the wind of your dreams, flying to meet the next adventure.  Not quite like this guy, but close:
Dad biked everywhere, too.  He had a gorgeous vintage bike that was greatly admired.  The tall American pastor making rounds on his bicycle was a familiar sight in those days.  He took a bunch of our motley gang on a road trip to a farm, 30 kilometers (18 miles) outside of town.  I believe that we went twice to Fazenda Kelina, but I can only remember the one trip where both Charles and I got second degree sunburns.  The road to the farm, unpaved, was bumpy and dusty.  Mom and Helen drove behind us carrying supplies and a first aid kit.  From the farm itself, all I remember are bunk beds and a frog in the toilet.  It rained before we left which turned the dust into a thick, sticky clay.  We had to push our bikes for what seems like a lifetime, cleaning the clay off of the tires and our tennis shoes with sticks as we went.  My mother recalls the next trip in 1977, "There were so many flies at the farm that we could barely sleep.  A neighboring family gave us a sack of corn for our meals." (See Biels in Brazil)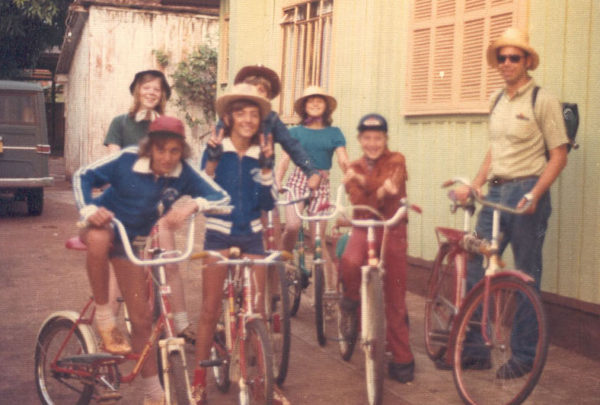 The trip to Fazenda Kelina, 1976
Charles and I biked daily to the American school on the other side of town.  The bike gave you time to think and I remember chanting, "unique, unique, unique…." all the way home on the day that I learned that word.  I liked the sound of it.  Another time, daydreaming, I ran right into a truck that was parked at a stop light.  I wasn't going very fast and my tire just wedged itself under the truck's bumper.  I was upright, but embarrassed.  There were no such things as bicycle helmets back then. I took a look at the route we took through our city on Google Earth and know that it would be a tough ride for me today: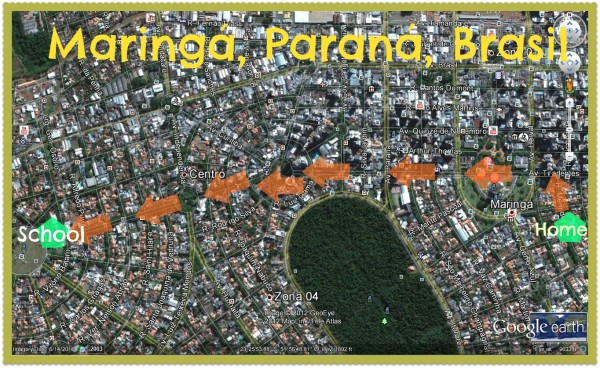 Remembering this on the phone with my parents the other day, we noted how nowadays, most would not give such freedom to their kids.  On the one hand, it's amazing that we survived our childhood, yet on the other, we learned how to move around in the world without fear.   
Fast forward to Chicago, 1984.  I moved there after graduating from college and for the first two years, biked everywhere.  Winter meant buses and trains, but when I could, I was on the bike.  I had never learned how to drive and finally, my parents bought me a car and my brother came to Chicago as my teacher.  The bike disappeared from my life.  I was trying to remember what happened to it and I finally dug up the memory that I had two bikes in Chicago and both were stolen, while locked.  Chicago thieves are very good at what they do, even better than the Brazilians!
Now we fast forward again, almost 30 years.  I have allowed myself to turn into a pumpkin, a lump of lard.  No biking in all this time!  I do try to walk my dogs and my garden demands some sweaty labor, but my joints are all pretty rickety now, so nothing I do is really pumping the old heart.  I tried swimming a couple of years ago, but one of my shoulders screamed in protest, so I gave that up. About three weeks ago my car's fuel pump gave out and I don't have the money to fix it.  I found a no-frills bike for $50 and at the age of 50, have found my saddle again!
Paducah is flat and I live a couple of miles from the downtown area and a mile from the supermarket. Getting back into the groove of biking was pretty scary at first.  Not the actual biking part, but stopping, looking over my shoulder for traffic, getting on and off the bike (will the hips pop out of place?).  We've been having this awful heat wave, over 100 degrees for weeks, so I've done my biking expeditions mostly in the evenings.  Even then, when I stop, sweat just gushes out from every pore.  If I keep this up, I should be a skinny minny in no time, eh?  So far, no weight loss, but my legs are feeling stronger and I have more energy.
I've been thinking a lot about my friend, Aynex, who when she lived here in Paducah, went everywhere on her 3-wheeler.  She suffered a terrible accident several years ago and also had joint problems, making walking hard for her.  But, the bike allowed her to get around at will. Here is a video she made of her route when she lived here, much the same as what I see when I am downtown:
Experiencing the city this way is a lot different from being in a car. People I don't know will often start a conversation (the weather, their own bikes) or they will smile at me. (Are they feeling pity for the fat, sweaty lady on her bike?) And, I have to think carefully about what I buy, how much I can carry.  I don't bike for pleasure.  Every trip has been an errand: to the library, City Hall, my booth at Antique Galleria, the vet, the post office and to the supermarket.  I keep in mind the images I've seen of 3rd world bikers and how much THEY carry, making it clear that I am a total wimp!
From Environmental Graffiti.  More images here.
My van sits outside, waiting for me to get it fixed.  I will, at some point.  I do need it to lug around the larger things that I can't carry on my bike, but I am so glad that it broke!  It forced me to go outside of my comfort zone to do something that is really good for me.  I am, by nature, lazy when it comes to physical activity, but I am really hoping that this is the beginning of a long love affair with being on a bike again.
Can I tie this trip down memory lane to textiles?  Sure!  There is always a connection if you look for it.  You will find it in Abdul's shop on Etsy.  He has a couple of wonderful textiles there from Afghanistan, bicycle and motorcycle seat covers.  When bicycles replaced the horse or donkey in many of these third world countries, they received the same decorative attention.  Check out these vintage embroidered examples: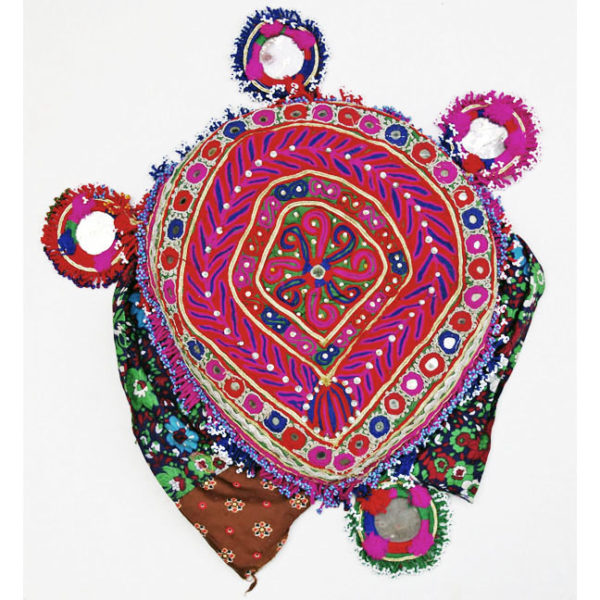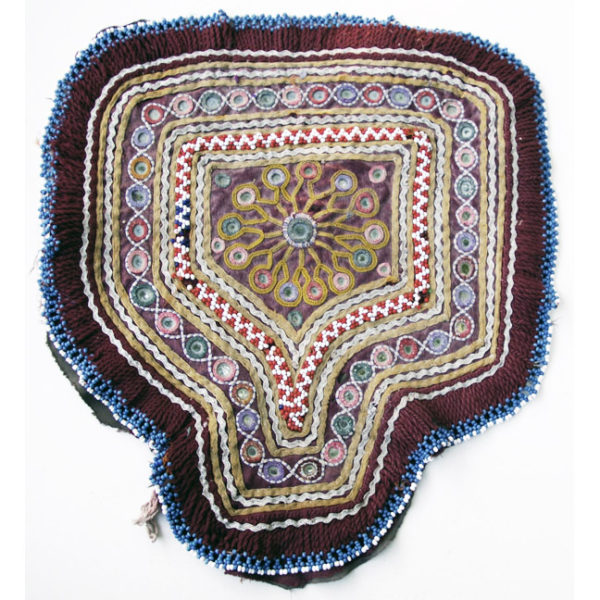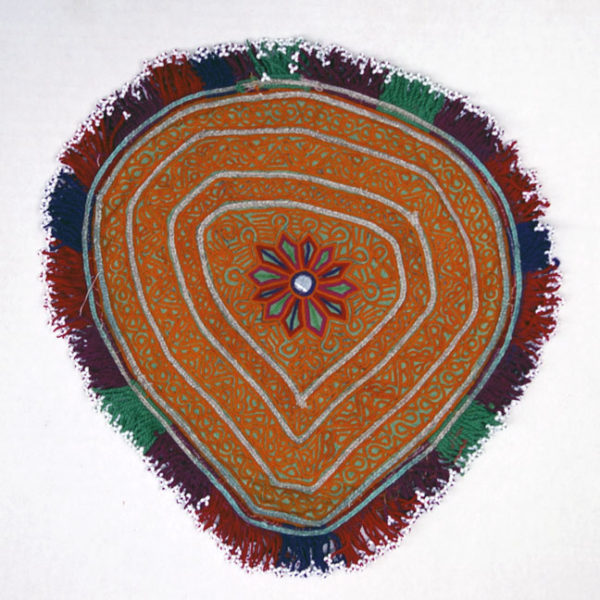 There were three listed at the time I posted this, so when you check his shop, you can search it using 'bicycle' or 'motorcycle' as key words to see if there are any more.  They all have exquisite embroidery and are a real tribute to our good friend, the bicycle!
Visit Afghan Tribal Arts on Etsy.