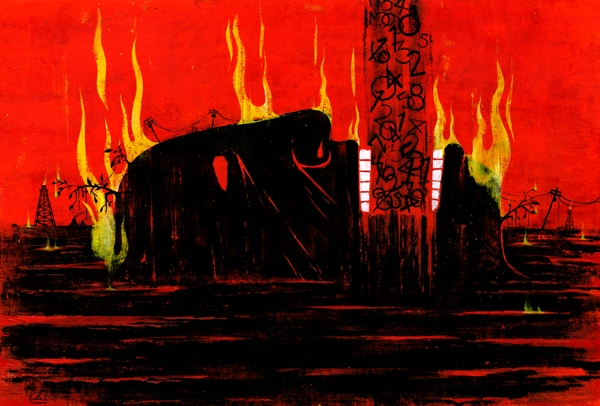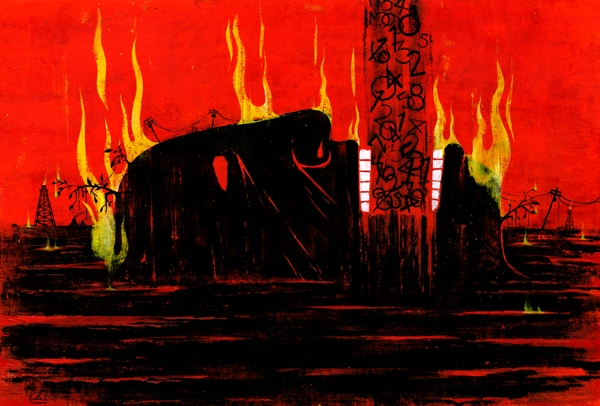 Illustration by Edel Rodriguez
If the pictures of those towering wildfires in Colorado haven't convinced you, or the size of your AC bill this summer, here are some hard numbers about climate change: June broke or tied 3,215 high-temperature records across the United States. That followed the warmest May on record for the Northern Hemisphere – the 327th consecutive month in which the temperature of the entire globe exceeded the 20th-century average, the odds of which occurring by simple chance were 3.7 x 10-99, a number considerably larger than the number of stars in the universe.
Meteorologists reported that this spring was the warmest ever recorded for our nation – in fact, it crushed the old record by so much that it represented the "largest temperature departure from average of any season on record." The same week, Saudi authorities reported that it had rained in Mecca despite a temperature of 109 degrees, the hottest downpour in the planet's history.
Read more: http://www.rollingstone.com/politics/news/global-warmings-terrifying-new-math-20120719#ixzz21ksIpasi
That's how the article starts out, going on for several more pages.  It's not always 'fun' to slog through long articles on the internet, but neither will our future be 'fun' if we don't stop our path to self-destruction.  I have two air conditioners in my house, one at the front and one at the back and fans placed around to circulate the air.  Both are working themselves overtime and as I sit at my computer, sweat just pours into my eyes.  (Yish…)  The grass in front and back is pretty much dead and the ground has cracks all over it.  And, this is living by the Ohio River in a Kentucky area that is known to be lush and humid.
I've never had an air conditioner before and have always poo-poohed them.  But, last summer, my ankles started swelling from the heat (and from sitting so much).  I just can't take the heat here without them.  So, I've joined in, contributing to a larger carbon footprint.  Yes, I recycle and live a simple lifestyle, but I know I also use much more than I save.
My car broke down and it's going to be a pricey fix.  So, I bought a bicycle and for the first time in decades, I've been pedaling my way around.  It's flat here and pretty easy to get around, but the heat….  it's like breathing in the hot air of an oven.  So, I go do my errands in the evening and still sweat like a pig as I pick up my groceries or library books.  Will I be able to commit to the bike after my car is fixed?  I don't know, but I am sure going to try…
Read the article.  See if it terrifies you into making some changes in your life.  
Update:
A friend sent in the following message from Bill McKibben, the author of the above article:
Dear Friends,
I confess to being somewhat blown away by the reaction to the piece I wrote for Rolling Stone last week. Despite the fact that it was 6,000 words long and pretty technical, it has been shared almost 100,000 times —which is more than 10x as many as the interview they did with President Obama the month before. Clearly the piece struck a nerve—probably because its timing coincided with the heat and drought and fire that have so unnerved the nation this summer.
I just wanted to thank you for taking the time to read all 6,000 or so of those words, and for sharing it with your friends and family. I was told by the folks at Rolling Stone that it's been viewed 450,000 times, which is just remarkable. (If you haven't had a chance to read it yet, here's the place to go: act.350.org/signup/reckoning)
Monday night we had a big video chat with folks who wanted more details and I've been poring over the helpful comments that arrived by the kilobyte to thoughts@350.org.
With the crazy weather putting climate change at the top of more people's agenda, it is clear that we're at one of those breakthrough moments that movements occasionally get, and we don't want to waste it. If you've read the piece, you know that it makes clear that the fossil fuel industry already has 5 times more coal and gas and oil on hand than even our most timid governments think would be safe to burn—left to their own devices, they'll usher us right past the brink.
So—even as we continue to fight pipelines and coalmines and oil wells, we need to take on that industry as a whole. We need to change the rules. Until the election we're going to do that by pushing folks running for office to take a stand against fossil fuel subsidies. But we also have to start preparing for what happens after Nov. 6th.
I've been working on something I wanted to let you know a bit about, and hopefully have your help in seeing through.
Starting the day after the election, I'd like to go after the fossil fuel industry even more directly, trying—as the Rolling Stone piece suggests—to spark a movement like the ones that overturned the great immoral institutions of the past century, such as Apartheid in South Africa. On November 7th, 350.org board member Naomi Klein and I are planning to launch a road show that will cover 20 cities in just over 20 nights (we're going to break for Thanksgiving) to bring the message I laid out in Rolling Stone to thousands of people across America.
We'll have a revolving cast of musicians and great speakers, to make it an inspirational and exciting event. We're in the process of confirming venues now – but we're going to need your help to promote these events in your community, and help turn these ideas into a powerful campaign. If you can help us book a large venue, know of great musicians that might want to participate, or can lend a hand with the creative work that this will surely require, click here to let us know how you'd like to help out: act.350.org/survey/tour-help/.
Look, the Rolling Stone piece was pretty grim. But the response to it shows that people understood that our backs are to the wall and that means it's time to fight. I don't know if we can win; but I'm certain that without each of you we've got no chance. So thanks in advance for jumping in.
Bill McKibben for 350.org