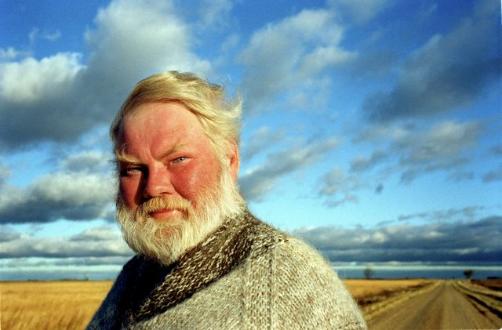 My parents sent me a link to a video made by an Icelander who drove around Minnesota and North Dakota, looking for some of the memories and legacies still living there, shaped by immigrants who settled that land in the late 1800's.  My mother is a Gislason, a descendent of one of those good Viking farmers.  The video is of interest to us because a nice chunk of it features her cousin, Darren Gislason, a sweet man who loves books and the earth.  He is one of those people who stayed true through the years, changing very little from the memories that I hold of him from when I met him as a child.
Much of the video is in Icelandic.  We didn't keep the language, my mother nor her offspring, although we carry the genetic code, stamped by our freckles and our love of books.  The traveling Icelander is Andri Freyr Viðarsson who has a show in Iceland where he travels around and visits people.  There is also a guitar player setting the mood to the film, wonderful pickings and worth the trade-off if you don't understand the language.  Darren's home is like a museum, a tribute to our Icelandic heritage.  If you don't want to watch the whole thing, just skip forward to the 8:00 marker when Andri drives into Minneota, my Mom's home town.
Click on the image below to watch the video:
Darren Gislason with Andri Freyr Viðarsson
Darren says something about happiness being about having a garden and a library.  He has an abundance of both.  It's been many years since I got the tour of his green thumb abilities, but I remember trekking through a wooded area that had pockets of enchanted magic.  Flowers growing out of claw-footed tubs, other abandoned objects growing with life…  I believe that he was then caretaker of a cemetery and had free reign to shape his magic.  I have books and I have a veggie garden.  I must be on my way to true bliss!
When I think of Darren, their other cousin, Bill Holm, always pops into my mind.  The two of them were very close and both considered as caretakers of the Icelandic torch. While Darren seems almost like a recluse, Bill was gregarious, a traveler and surrounded by acclaim.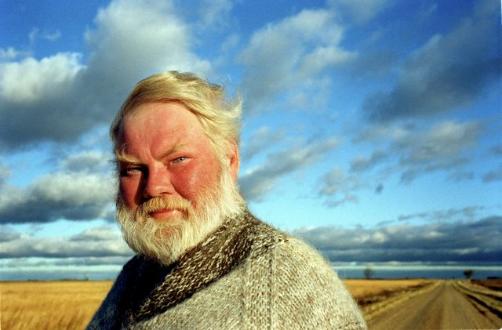 Bill Holm ( photo by Brian Peterson)
If you google them, Darren's name shows a few entries while Bill's goes on and on.  Darren is also in this video, a tribute to Bill done in 2008, about a year before he died in 2009.  It's beautiful and poetic:
Bill Holm from Jonathan Chapman – JC|P on Vimeo.
In the first video, Darren talks a bit about being one of the few Gislasons left in that small town of Minneota.  We had family reunions back in the 1970's and my memory is of flaming red hair and lots of freckles.  My mother, brown-haired, has two sisters, Nyla and Olive, who with their third sister (deceased), Marian, all gloried in the brightness of their locks.  Age has reduced us all to the common denominator of white, a fading of the genes, the equalizer of the years.  But, it was something to see them in those gatherings- loud, opinionated, determined, and fierce.  The number that sticks in my head about Iceland's population is 150,000.  My aunt Olive has dedicated years to our genealogy, tracking us back to the first nine Danish "kings" who settled the island.  My grandfather came back from a trip once and showed us a photo of a waitress he saw there, a xerox copy of my Aunt Nyla.  A tiny pool of inbred recessive genes…
Another woman in the video talks about why heritage has been important to her, "There are so few of us…"  It is true, those early visits we had with our Gislason relatives rang with pride of ancestry.  My grandfather would tell us that every freckle was a beauty spot.  I have always enjoyed the image of being a "Viking", even with the raping and pillaging tags associated with them…
The violence is not what captures my imagination.  Instead, it is how these brutes learned to co-exist, forming one of the first democracies in the world, surviving as the oldest living democratic government.  Because land was so limited and precious, the had to find ways to solve their grievances.  They chose a system of consensus, of public debate and accountability.  Time and social evolution has made Iceland one of the most neutral places on earth and when the economic recession hit in these recent years, the stoic hardiness of those ancestral genes kicked in.  Instead of rescuing banks and big corporations as we have done here in the US, Iceland said, "Let them burn."  They allowed a collapse that caused extreme hardship on the population, but now, a few years later, the reports that I hear are of growing prosperity and stability.  Pundits hold them up as a model that should serve as an example for the rest of the world.

I went to Europe in 1984, a college graduation gift made possible by my grandfather.  I went on Iceland Air, hated the airplane food (cold fish and caviar…), and landing in Reykjavík for a few hours nearly froze me to death and it was only June.  Yet, everyone looked like me.  I could not help thinking, "My people! My people!"  Since then, I have watched several Indie movies made in Iceland.  They are always dark, depressing, lonely….  I know I could not thrive there.  Then, I think of my ancestors, leaving that small island with live volcanoes and little arable land, making their way over the ocean and finally arriving to Minnesota…..  land, flat land, fertile land, as far as the eye can see.  Miserable winters, but nothing like the cold they came from.  My grandfather was from a family of twelve siblings, he had six children, my mother had three.  The need to procreate decreases as economic stability increases.  We are likely to survive.
I'm not sure what all of this means or if it is even important.  Growing up in Brazil made me feel more like a world citizen than attached to any one ethnic group.  My father told me when I was a teenager, "You will not belong anywhere but you will be able to live anywhere."  That has been true for me.  I've liked all of the places where I have lived and people have been kind and welcoming, but there is no sense of roots.  I've been in Paducah for almost eight years now and it still feels like I just arrived.  Maybe that's a Viking trait, too, the explorer, wanderer, settling in places unknown.  But, somehow it is a gift to know where one came from, to pay homage to those who carved a way for us.  A friend who was adopted longed to have children so that she could have some blood relatives that she knew personally.  Even though I live far from mine, I carry their stories with me, or at least some knowledge of them.  All I know is that I like being related to them.  Somehow, that Viking spirit lives on in me, even if it is just through books and a garden.
Some Gislason pics:
[portfolio_slideshow id=1526]
More on Bill Holm: