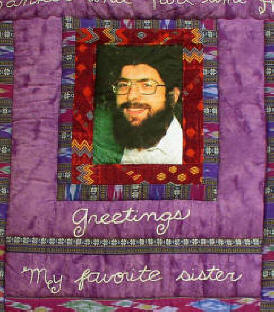 A lucky artist has a patron and mine has been Joyce Levy. Joyce Levy commissioned four quilts made of t-shirts that belonged to her brother, Bruce. He died of cancer and the quilts were for his wife, parents, best friend and Joyce. Joyce has been a longtime supporter and collector of the arts and was on the board of the now defunct Textile Center of Chicago. She is also a cancer survivor, a brilliant Lawyer and a collector of Edward Gorey.
The first three quilts were made in the beginning of my introduction to quilting.  The fourth, Joyce's quilt, was on hold for several years due to big changes in my life, including a move from Chicago to Kentucky.  In hindsight, this was a good thing as my skills had improved greatly by the time I finished hers.  The Bruce Quilt was quilted by my friend, Pam Heavrin, a local Paducah long-arm quilter.
Bruce Quilt for Joyce,  August 2008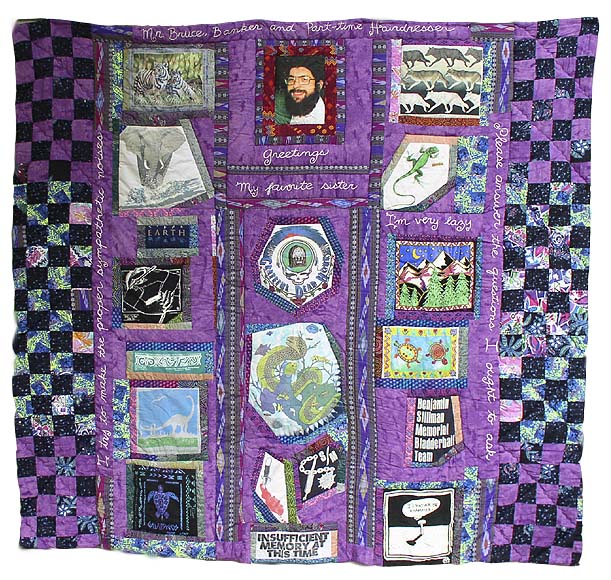 Details:
[portfolio_slideshow id=808]
.
Back of the quilt: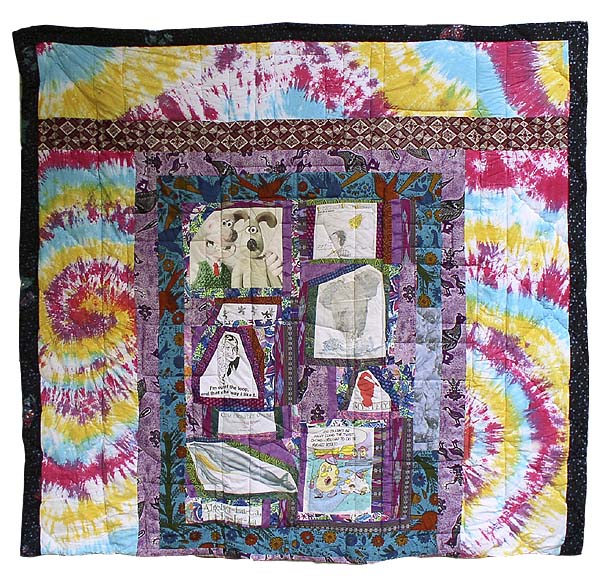 The photo below shows me with Bruce's widow, Leslie, back in 2003:
I found it challenging to work with the t-shirts. I fused them to secure them, but did not quilt through them.  Compare these with the Bruce quilt and it is obvious what a great difference quilting makes in finishing a piece!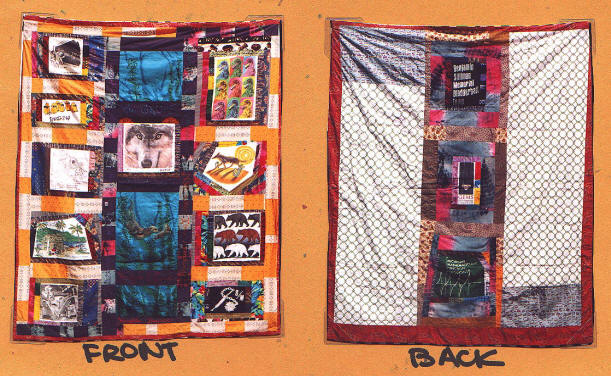 I have more photos and stories about Joyce on my old blog.  Her father, Sidney Levy, also commissioned me to make a textile out of his tie collection.  I consider his piece, Sidney's Ties, to be my most complex and beautiful piece to date.