Oshiwa Designs is a wonderful carving workshop in Namibia. They make beautiful printing stamps our of Wawa wood that can be used on paper or fabric. They wanted to make these stamps available to artists around the world but had all kinds of logistical complications in shipping small quantities out of Namibia or being able to set up efficient banking systems. PayPal has finally arrived there, so eventually, things might get easier. Meanwhile, I agreed to rep them here in North American and they shipped me a couple of boxes of stamps a couple of years ago which are available in their Etsy shop.
Many people wonder how to use the stamps and I finally made a short slide show using images that Anita, the owner, sent me on the process:
Click on the video at any time to pause it if you need more time to read the text.
The stamps can also be used to press into clay, soap and cookie dough!
They come either as singles or in sets and have been priced by the square centimeter. The sets end up being about 15% cheaper and we are hoping that teachers will invest in them for their workshops or classes. The video shows how you can use the stamps with acrylic paints, but you can also use them with hot or soy wax with no problems for batiking.
Click on any of the images below to visit the Etsy shop:
If you use the Oshiwa stamps, we would love to feature you here with examples of your work so that others can see what can be done with them. Many of the stamps have obvious African themes, but others are patterns that could be used for non-ethnic specific designs. One of the Oshiwa carvers said that it's "All in my imagination!". The same with what you can do with them: it's in your hands, in your mind!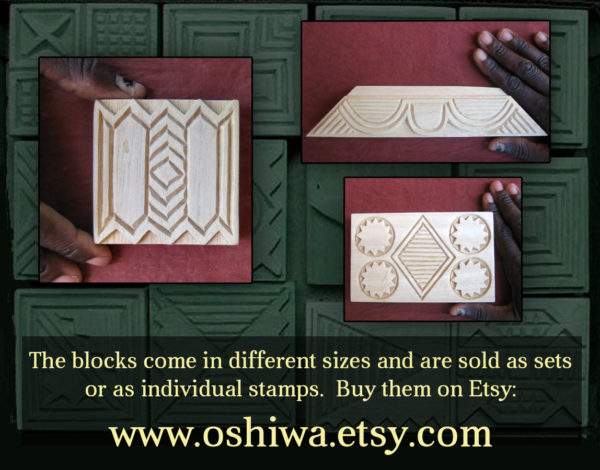 The shop has been slow in sales and this economy has affected Oshiwa as well. The latest update from Anita:
Oshiwa Designs are the creations of Kavango Woodcarvers Paulus Mutunda, Dhumba Joseph, and Joseph Kanwa, of Namibia. Oshiwa started producing Hand Carved Photo Frames in 1994, and from there, textile printing stamps or wood printing blocks. The designs are intrinsically African. At Oshiwa, a vast range of generic designs, each one beautiful in its own right, were developed. Each stamp was painstakingly produced by hand and each design carefully considered – the opposite to a mass-produced product.
Over the years, far more printing stamps were produced than sold, and tough economic times have meant that we have had to slow down on production. Joseph has returned to his home in Kavango where he plies his woodcarving craft for the tourist industry. Paulus continues to produce mainly hand carved photo frames at Oshiwa and on occasion still carves printing stamps. Dhumba is employed at Studio 77, another local framing workshop, where he applies the skills developed at Oshiwa. 25% of income from blocks sold on Etsy and received by Oshiwa Namibia is pledged to Joseph Kanwa – sadly, still far less than he needs to earn a decent living. All production, development, promotion and ongoing maintenance costs, are carried by Oshiwa.
Your purchases can help turn things around and bring in much needed income for the carvers. Please spread this post around to your artist friends and encourage them to use the Oshiwa stamps as tools in their art work.
Oshiwa Designs is also a member of TAFA: The Textile and Fiber Art List. Visit their Member Profile.
Feel free to leave questions or comments and we'll answer them here.