Paducah Artist-in-Residence: Jennifer Moss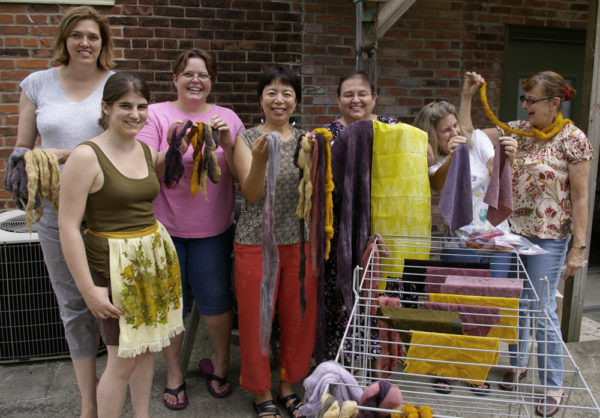 Participants in the Natural Dye Workshop
This past weekend Jennifer Moss held a Natural Dye Workshop at A.I.R. Studio here in Paducah.  The studio is located in the heart of LowerTown, our artist neighborhood which is walking distance from the Ohio River, the National Quilt Museum, the Farmer's Market, and Paducah's downtown.  A.I.R. stands for Artist In Residence, the brainchild of Alonzo Davis, who envisioned a space where artists could come to Paducah, focus on their work and contribute to the local community.  The space is perfect for textile/fiber artists!  There is a comfortable living space with a kitchen and two beds, then a huge, open work-space with a washing machine and dryer, tables, and a large double door that opens to an outside patio.  A special bonus: Freda Fairchild lives next door!  A printer, Freda also worked for years as a costume designer and has an encyclopedia of knowledge buried in her creative brain.
Resident artists agree to one community workshop during their month-long stay at A.I.R.  Jennifer chose to teach some basics about dyeing with natural minerals and fruits.  On Saturday, the pots were cooked with a variety of dyes, using such ingredients as iron, blackberry, turmeric and more, using yarns and fabrics the participants wanted to try out: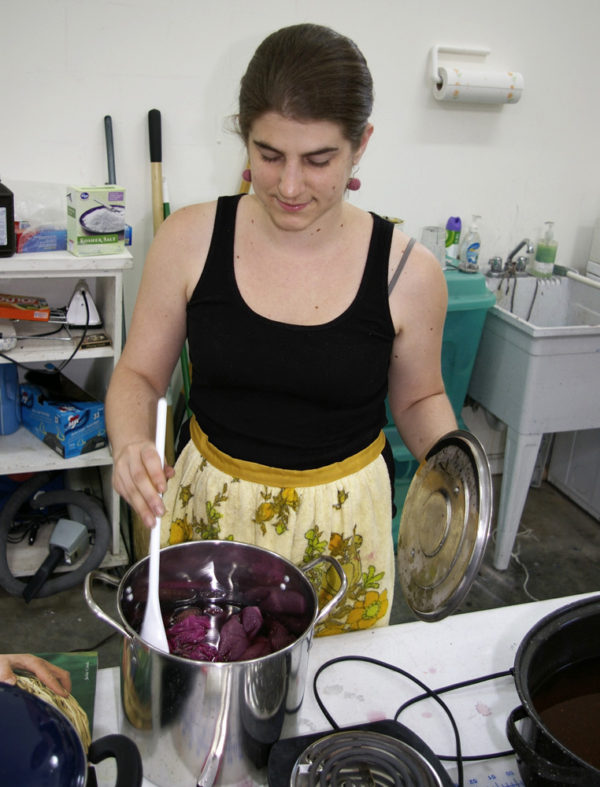 Jennifer Moss cooking with blackberry dye.
She had tested the dyes with small swatches prior to the class: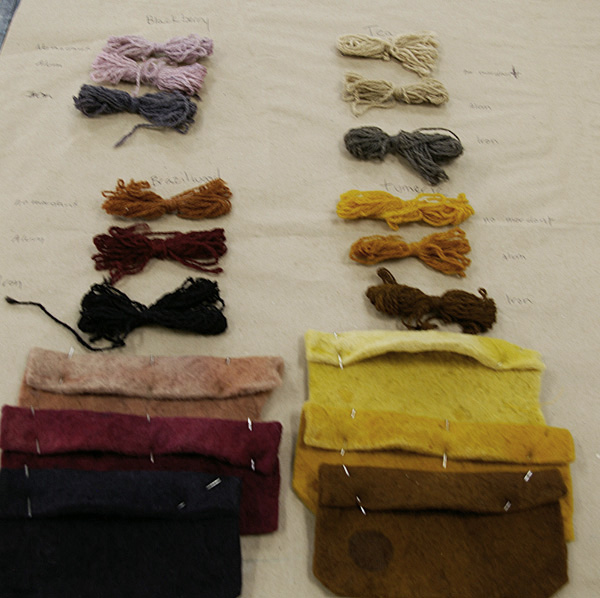 On Sunday, the participants came back to check out their results (top photo).  As you can see, they were thoroughly pleased!  A good time was had by all!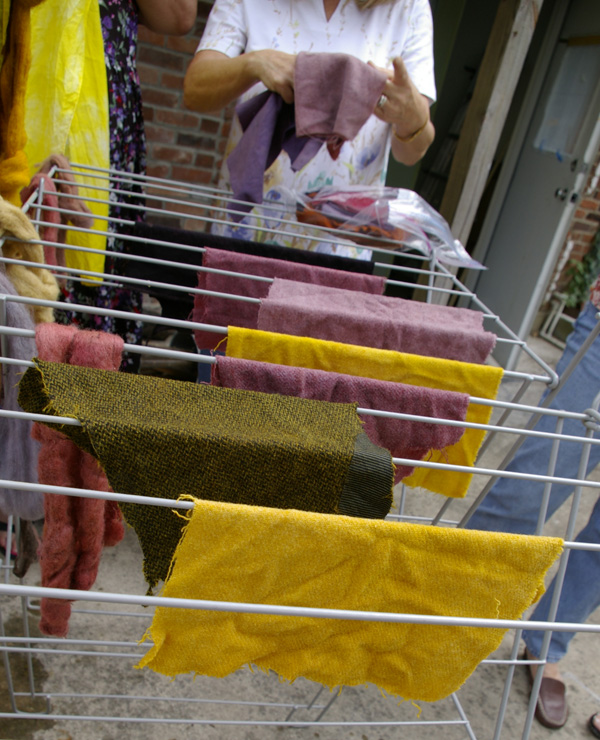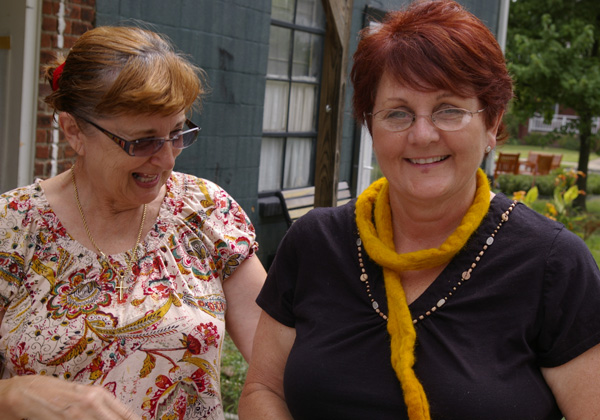 Several of the participants are members of Paducah Fiber Artists, my local fiber art group.  We are so fortunate to have these opportunities brought in by the artists-in-residence!  For a small town, we do have a lot going on!
Jennifer has more of the technical info about the dyeing process and the workshop on her blog.  She has been using her time here to explore ideas that she has been working on that look at form, dimension, and rust.  These branch shapes on the studio wall are some of the versions she has experimented with: wrapped wires, machine sewing on dissoluble  backings and using tatting as a technique.  Her June posts show more images of the studio and give more info on these experiments.
The Artist-in-Residency program comes through a collaboration of the Paducah Arts Alliance and Yeiser Art Center (a TAFA Member).  Here is a description of the program from Yeiser's website:
Paducah Artist-in-Residence Program
The Paducah Artist-in-Residence Program is a collaborative effort between the Paducah Arts Alliance and the Yeiser Art Center,  working together to create a permanent and progressive artist in residence program. The mission of the residency is to promote the growth of artists and of the arts community, providing artists with a community arts space in which to collaborate, educate, and create. The residency is made possible through funding from a grant from the National Endowment for the Arts and the Paducah Renaissance Alliance. The residency space is located at A.I.R. Studio in the heart of LowerTown Paducah, providing walking access to a number of local artist galleries and studios, as well as Downtown Paducah with a variety of arts venues including the Yeiser Art Center, Maiden Alley Cinema, the Carson Center, the National Quilt Museum, and the Paducah School of Art.
If you are looking for a residency, definitely check this out!  Paducah is an easy place to live and there is a thriving artist's community here, both in and outside of LowerTown.  More info on the program.
Many thanks to all of you who make these great opportunities happen here in Paducah!