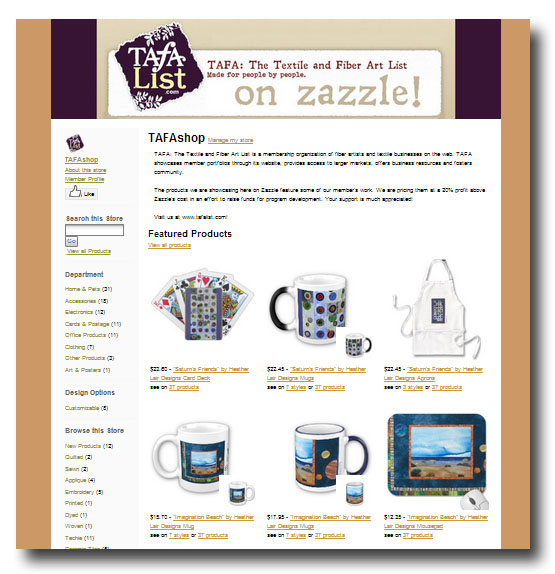 TAFA needed some products for sale, but what?  I had been chewing on Zazzle and Cafe Press for some time and finally bit the bullet and went for Zazzle.  After some research, other users seemed much happier with Zazzle than with Cafe Press and now that I have gone through the learning curve, I am quite pleased with the results!

One image can be printed on about 100 different products.  

Set-up is pretty time-consuming, about two hours for each image as you have to tweak each product to make the image show to its best possible position.  I started out with some of my textile images and have now opened it up to other members.  Heather Lair's work, pictured above, was the first and I expect that as we work on it, the TAFA Shop will just get more beautiful and interesting.
Prices on Zazzle seem pretty high to me, but they have daily sales, so by watching and waiting, they can become more reasonable.  But, TAFA does get 20% of the sales and this is really more like a fundraiser, a way to support the site, than anything else.  Participating members are allowing their images to be used for this and are not getting any of the proceeds.  However, anybody can become an associate and earn 15% of sales by referring to the site.  So, maybe some of them (and some of YOU!) will do that, too.
I don't expect this to become a huge money-maker for TAFA, but I really like the ability to have access to some of these things.  I will be ordering some cards and stickers that I can use as thank-yous for our Etsy customers.  And, I will probably give some mugs as Christmas gifts.  They really are beautiful!  One of my favorite products is the ceramic tile option.  I made several from my textiles and they can be used as a black splash in a kitchen, incorporated into other artwork, or framed and used as a trivet.  At least this is one more way that I can use some of my best images that I have shot for the Etsy shops.
Go visit and let me know what you think!  Click:  TAFAshop
If you buy something, I will know that you really liked it!  And, I would love to hear feedback on how the products look or of any experiences any of you may have had with Zazzle in the past.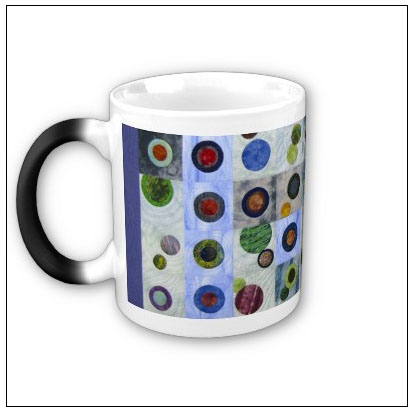 Heather Lair Mug