This Is My Father's World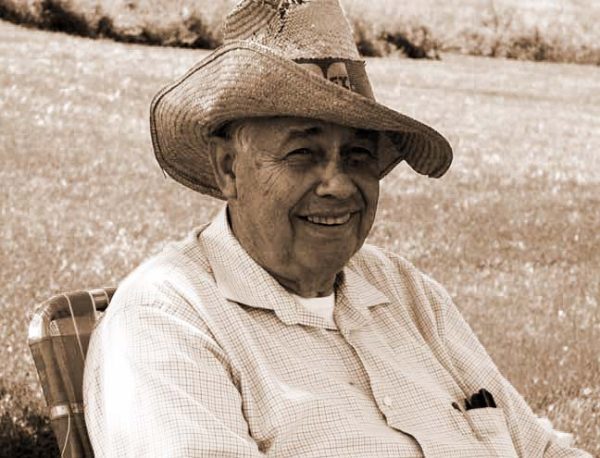 Clifford Biel, 2008
Today is Father's Day here in the US and the photo above is one of my favorite images of my Dad. If I have to pick one of his many gifts that defines how people experience him it would have to be his laughter.  Contagious, he makes those around him laugh with him, sometimes even at him. Like a child's blanket, it often hides his serious side, the one that he carries in his heart and soul.
We sang "This is Our Father's World" today in church, a song that I grew up with and one appropriate for honoring my Dad.  Listen to it while I share a bit about this dear man…
My parents were missionaries in Brazil from 1962-1980.  Both were farm kids from Minnesota and when we came back to the US, they settled in North Western Wisconsin.  I have not lived with them since I was 15 yrs old, but visit them yearly and speak with them weekly.  The childhood memories are powerful and shaped my life in ways that are still evident so many years later.  A few of my father:
cutting tin cans to make ornaments with prisoners when I was very small, driving in back roads to country churches and coming home late in the night, playing basketball under mango trees, playing ping-pong with all the neighborhood kids, "You go to church not for what you can get, but for what you can give", "Boys have antennas on their heads; they know what a girl is thinking", "You can be anything you want to be", "If you want to be a good ping-pong player, play with someone who is better than you", creating Disney World effects on our church's Christmas trees, my first bicyle-tape-recorder-Bible-watch-car and so many more firsts, trying to keep up with his long steps, melting at a parade, getting spanked, having him look at me sternly and me wailing 'YOU DON'T LOVE MEEEEEE…..", endless croquet games, disagreeing about theology and politics, forgiveness over and over, corny jokes, campfires, youth camps, hearing the sermon "The Woman at the Well" every Sunday one furlough, taking things apart and putting them together again, compassion for the poor, washing the feet of that beat up old German lady in Brazil, icy cold disapproval, unconditional love…….
I could go on and on.  I love my Dad.  I'm one of the lucky ones.  Many women in the church have fought to make the image of God non-sexual because the image of God the Father is one that gives them the jitters.  Sure, Dad and I have had our conflicts and disagreements, but I have always felt loved and safe with him.  Because of him, I've had excellent male friends and a healthy role model for what a good man should be like.  Because of him, I grew up with the knowledge of God's love, the ability to step into the unknown with faith.  And, because of him, I have hope for the future.
[portfolio_slideshow id=1078]
My father encouraged me to explore my creative side.  His side of the family has many talented artists and there must be a gene there that pushes us towards art.  He carved for a while and much of my childhood revolved around making something out of nothing.  His tools and inventions opened new worlds of possibility for me.
I know one thing for sure….  my Dad's life would have been a lot different if he hadn't met my Mom.  His creative energy would probably have spun out of control if she hadn't kept him centered, clean and fed.  We may say "God will provide", but in my mind, my mother has been the one to provide the security to allow us to be fully who we are.
Mom and our maid in front of our house in Brazil.
If you want more Biel stories, you can visit our "Biels in Brazil" blog.  An aunt kept the letters my parents sent back to the US during those years and I have been transcribing them to the blog.  I think that when it is done it will be a pretty interesting record of an amazing time in Brazil's history.  We may have been some of the characters in the play, but the story is larger than us.
To all of you fathers out there, know that what you give your children when they are young will stay with them for the rest of their lives.  May it be the happiest of  journeys!
If you think I'm weird, guess where it came from?