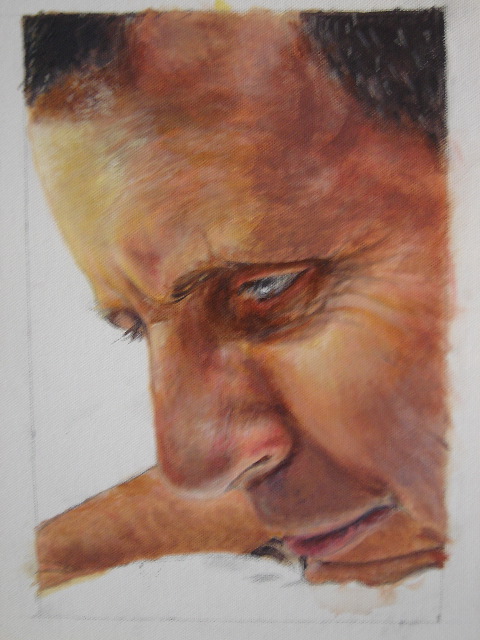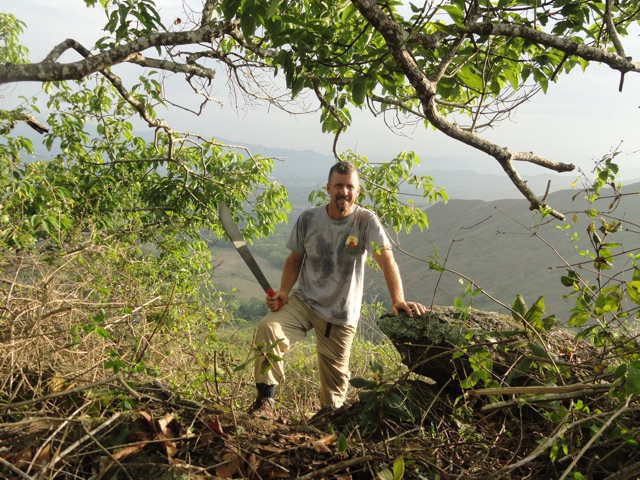 Tom in Venezuela
My friend, Tom, was bit by a tick.  It made him sick.  Very sick.
Tom is all about health: he works on an organic farm, has access to great produce and other fresh foods, enables other organic farmers in their work, has an active lifestyle, meditates, engages in spiritual discipline, takes a bunch of good supplements and should be brimming over with great health.  Well, there is one bad thing in his life:  works too hard and faces stress because of too many responsibilities.  Stress can do a lot of things, but it usually does not cause paralysis in your face, aches in your joints, numbing in your toes and reduce you to a collapsed body with a foggy mind and screaming pores.  Yet, that's what happened to Tom.
This year he ended up in the emergency room twice:  once in Canada and once in California.  He was pretty functional for most of the time and then things would flare up and down he went.  Tom lives in Wisconsin and Lyme Disease was checked out when he had Bells Palsy on his face over five years ago.  He tested negative.  40% of people do test negative on that test.
Well, that's what he has after all!  It's a huge relief because now we all know what has been ailing our dear friend.  He shared an email with a bunch of us that explained his diagnosis and what he is facing so well that I asked him whether I could make it public.  Maybe it will help someone else out there.  My parents live in Wisconsin and I live in Kentucky.  I have been bit by a tick here and have found them on my dogs.  Dogs can get Lyme Disease, too.  In fact, Tom said that veterinarians are much more proactive in diagnosing it and treating it than medical doctors are in doing the same for people.
Tom teasing wife, Neddy.
Tom's letter
My lovely and dear friends:
Thank you for all your thoughts, prayers, notes, and for checking in on me these last weeks (and months!).
As I'm now finishing up my third week of treatment for Lyme, I wanted to give you and update on how things are progressing.
It is my hope that whatever struggles I'm going through might serve you in some way — perhaps alert you to Lyme so that you seek treatment earlier than I did if you ever have the misfortune of getting it or you can counsel someone you care about who has symptoms.  It is also important to pressure state and federal officials to dedicate more funding to research, education and prevention of Lyme disease.  Senator Blumenthal from Conn. introduced a bill in Congress in 2012 to do just that and he held hearings on August 30, 2012 (to hear or read this very compelling testimony from the hearing — go to http://www.help.senate.gov/hearings/hearing/?id=53342b1c-5056-9502-5d05-aa0c57233aed).  I'm not sure if it is going anywhere given all the gridlock in Congress.
Here's where things stand with me: 
I got a diagnosis of Lyme Disease on October 22nd 
Antibiotic treatment began October 23rd
Doctor Waters, my 'lyme-literate MD' says my antibiotic treatment will last 6 months to one year.  His rule of thumb is to stop treatment after two full months without symptoms of the disease.  
I have a decrease in symptoms over the past several weeks
Doctor Waters uses a "pulse antibiotic treatment" where the patient has five antibiotics at high dose for two-week intervals — two weeks on, two weeks off, two weeks on, two weeks off, etc. This treatment was pioneered by Dr. Jemsek (www.jemsekspecialty.com) – an infectious disease doc from North Carolina who is now in DC.  He is one of the leaders in the International Lyme and Associated Disease Society (www.ILADS.org).  The idea with the pulse treatment is to hit all three forms of the Lyme bacteria each with a different antibiotic and initiate the die off of the bacteria.  Then, take two weeks and let the body recover.  Just as the remaining live bacteria also recover and try to reproduce, you hit them again with more antibiotics.
My first three weeks of treatment has led to at least two major improvements and has given me hope for healing:
I have increased energy
My 'brain fog' disappeared 90% for most of the last three weeks
I had no panic attacks
The pain in my muscles and joints is far less than before
As you know, this has been the most difficult health issue I've faced in my life.  The last few months have been extremely difficult as my symptoms have worsened seemingly without any identifiable cause.  I literally saw more than a dozen specialists and made two emergency room visits for what seemed like possibly life-threatening symptoms (shortness of breath, pain in the chest, and numbness in my neck and shoulder).  Every doctor said I was fine. Their tests turned up nothing.  "You look good," they would say.  I knew better.  Something was wrong and getting worse.
I've had a crash course on Lyme.  Lyme impacts the muscular-skeletal system, the circulatory system and the neurological system.  It shows up differently in everybody and the list of symptoms is very long.  I have about 20 different symptoms that come and go, and move around the body. Doctor Waters thinks it is likely that I have had Lyme for 5-6 years.
Over this time, as symptoms have appeared, all of my doctors, none of whom can be considered "Lyme-literate", have treated me for each individual symptom, never seeing that they are all connected.  For my facial paralysis in 2007, my doctors told me it was likely from a virus and I got acupuncture and chiropractic work. For my rashes, the doctor told me it was eczema and offered a steroid cream.   For my shortness of breath and chest pain, I got a full stress test by cardiologists.  For my neck and shoulder pain and numbness, a neurologist and chiropractor provided theories on pinched nerves in my discs and treatment options.  Then, in August of this year, I began to experience panic attacks and I was seen by a psychiatrist.  She only wanted to prescribe meds.
It was not until October that I saw Doctor Waters, an integrative doctor who is "Lyme-literate", that a someone put all the symptoms together into a single picture. He says "You either have 20 diseases or you have Lyme disease. Nearly no one has 20 diseases."   All of my symptoms are classic signs of Lyme: the facial paralysis, the swollen knee, the odd rashes, the aching joints, the painful neck and shoulders, the brain fog, the panic attacks, the fatigue, and the numbness.  It is also classic Lyme for symptoms to move around the body.  Numbness appeared in my feet while in Venezuela. This year, it moved to my neck and shoulder. I've learned that "normal" panic attacks usually start earlier in life and tend to last 5-15 minutes.  Panic attacks that have onset after 50 years old and last for hours are indicative of Lyme disease.
Most of my symptoms are more of an annoyance than anything else. However, I have four major symptoms that have been debilitating for me.  For August and September, I worked only a few days out these two months.  A good portion of September I spent in bed or on the couch, in pain and in a fog.
The four most debilitating symptoms are:
brain fog, unable to think clearly or hold a thought 
pain in muscles and joints
fatigue, to the point of nearly fainting or once feeling that I didn't even have the strength to chew!
panic attacks, set off by even minor events and that last for hours at a time 
I believe I'm on the path to healing. However, I've been advised that the healing path for Lyme is a road of ups and downs.  Steps forward and back.  And it takes time.   There is no quick fix for Lyme if you start treatment when it is at an advanced stage.  If you are fortunate enough to know you had a tick bite and see a rash (only a minority of Lyme patients remember the tick bite and have the rash), a single round of antibiotics can cure you. However, in my case, after Lyme has had a chance to establish itself in my muscles, joints, brain, and circulatory system, it takes time to cure it.  Some with advanced Lyme do not get better.  The brave doctors who are pioneering the longer-term antibiotic treatments like the one I'm on have helped a great number of chronic Lyme patients like me.  Some do get better. Doctor Waters says that I've got a better chance of recovery than most as I have a very strong immune system, good dietary habits, and no complicating co-infections.
After this first round of antibiotics, Doctor Waters is encouraged (as am I!) that I've had both a "herxheimer effect" (a worsening of symptoms in the first week due to the die off of the bacteria all over my body) as well as a gradual easing of symptoms since then.  I have a great deal more energy and returned to work at 1/2 time this last week.  My brain fog is greatly reduced. My pain is muted and I have had no panic attacks.
As I'm on 4 antibiotics at high doses, it does take a toll on my body.  I weathered the first round fairly well and I'm healing up right now to get ready for the next round in one more week.  Lots of probiotics.
The boys and Neddy have been life savers for me, but it isn't easy on them. Please keep them  in your thoughts and prayers.
I'm so tremendously grateful to all of you for your care and concern and notes and support.  There is still a long road ahead, but this first few weeks has provided some signs of hope for recovery.
With much love,
Tom
 Tom, Neddy and their boys: Francisco, Gustavo and Adam
Tom sent along some literature for us to read and one of them was the account of a psychiatrist in Wisconsin who was bit by a tick in her garden, came down with Lyme and was given the run-around by her medical community.  Because of her experience, she began to identify symptoms in people who were coming to her for psychiatric help, including teenagers who were acting out. She became an expert in diagnosing possible Lyme Disease victims.  A kid acts out because his brain is foggy and he has panic attacks, gets treated for the disease and all symptoms go away, including bad behavior….  The article ended on a sad note as the doctor had been diagnosed with her third bite and was once again very sick.  It becomes harder to treat the body with each new incident.
The thing that really gets all of us is that Wisconsin doctors and insurance companies have refused to take this problem seriously.  One of the fears is that too many diagnoses could affect the tourism industry.  Huh????!!!!!  Wouldn't having a proactive health care and informational program give people more confidence?  Jaws sure didn't keep people away from Florida!
I have several friends who are working through life threatening diseases and health conditions now.  I guess we are reaching that age when stuff starts to happen.  They are all smart, educated and have had to become experts in whatever it is that they are dealing with. Technology and medical advances truly are amazing, but unfortunately, many of my friends have had awful experiences with misdiagnosis and doctors who don't give them accurate information or enough alternatives in their care.  Talking to them is like sitting through a biology class and my eyes glaze over with all the scientific terms…  This is why telling the story becomes so critical.  If you know people who have described some of Tom's symptoms, you might now be able to pass on his experience and hopefully move them towards an integrative medicine practice or at least help them ask the right questions.
Tom is too weak now to answer any questions, but you are welcome to leave them here as I can let him know when he has a message.  You can also leave blessings, messages of good will and links to funny videos.  (That's part of my job on his road to recovery.)
Resources:  Contact www.ilads.org for good info on Lyme and contact www.lymenet.org for one of the many local Lyme support groups around the country.  See more at the bottom.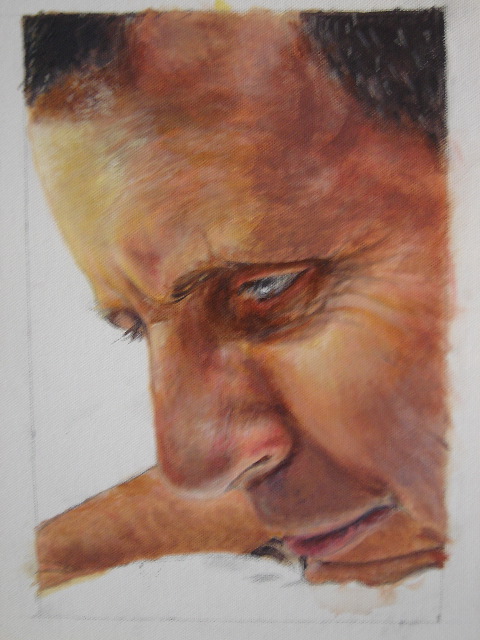 Painting of Tom by his wife, Neddy.
Be well, beloved friend!
More Resources:
Here are the contacts Tom got from his friend's doctor for lyme-literate MDs in Wisconsin.   He is working with Doctor Waters north of Madison near WI Dells.
Dr. Paul Burquist and  Dr. Luke Reatinger  in Viroqua: 608.637.4799,  Dr. Steve Meress in Fondu lac, WI:  920.922.5433, Dr. Alexandra Solano in Mequon, WI.  414.501.4707,  Dr. Bob Waters in Wisconsin Dells: 608.254.7178.
This webpage has great info on Lyme from doctors who are treating it.
Here is a list of Lyme Organizations and Sites off the www.chicagolyme.com support group site:
Midwest Lyme Foundation
A non-profit organization dedicated to raising community awareness about Lyme Disease.  The group also provides physician training for the management of Lyme Disease in the Midwest.
www.midwestlymefoundation.org
Minnesota Lymefighter's Advocacy
An affiliate of the Lyme Disease United Coalition
www.lymefighters.org
Michigan Lyme Disease Association
www.mlda.org
Lyme Disease Association, (LDA)
www.lymediseaseassociation.org
LDA of Southeastern PA
www.lymepa.org/index.html
Lyme Disease Association
(order Lymes Times here)
www.lymedisease.org
Wisconsin Lyme Site
Information on local events
www.lymewisconsin.com
Public Health Alert
Newspaper with articles on Lyme and other chronic illnesses
www.publichealthalert.org
Better Health Guy Website
Information on health in general
www.betterhealthguy.com
Tick-Borne Disease Alliance
Lyme Disease Information
http://tbdalliance.org/
Links about the Attorney General of Connecticut's lawsuit
against the Infectious Disease Society Lyme Disease Treatment
Guideline Authors and the new panel they are forced by law to put together.
lymeactiongroup.blogspot.com/2009/01/ct-attorney-general-versus-idsa.html
Lyme Rights
Website devoted to advancing the rights of patients with Lyme disease and other tick transmitted diseases.
www.lymerights.org
_____________________________________
Update from Tom, December 15, 2012:
Dear friends,
Thank you for your caring notes, calls and support this past month as I plodded along through my second month of treatment for Lyme.   It means the world to me to have your support and love.
Since it has been over a month since I sent out an update, I wanted to bring you up to speed on how things are progressing.
How am I doing?
The short answer is: pretty damn good, better than last month, and worse than last year.  One day at a time…
Here is my long answer: 
I'm in my 8th week of treatment for Lyme.  I start my third round of antibiotics on Monday.  I felt progressively better after each of the two rounds so far.   For the past ten days, the big four symptoms that are most debilitating (pain, fatigue, panic and brain fog) have been nearly eliminated or reduced by more than 75%!!!
I was able to work nearly a full week of work last week for the first time since July!!!!! That is to say I worked about 40 hours (not my previous "normal" 50+ hour week).  For week 7, I found that by getting a good night rest (at least 9 hours), I can get thru my morning routines (including downing piles of pills and supplements) and work from 9 am  to noon.  By noon, my energy lags, so I head home to eat lunch and collapse for an hour or two on the couch or bed.  After a good nap, I am able to keep working from home 'til 5 or 6 depending on the day.  I told my staff that I will try to work full time in December, though I won't travel and I'll work a good deal of the time from home.
On the home front, I've been able to resume some 'normal' activities that were nearly impossible in September.  I went to the movies with Neddy and the boys, I've been able to go to church the last few Sundays, and I've been able to drive myself to doctors visits (rather than depend on Neddy to drive me).  I was able to rake leaves for an hour with my boys and put up Christmas lights.  Activities like these are ever more precious now realizing how hard it was to do them just a few weeks ago.
I feel like I'm coming back to life.  It has put me in tears numerous times.  I feel like I'm coming back from a zombie state.  From the stories I hear from other folks suffering from advanced Lyme, I know this can change for the worse so I'm counting my blessings.   Hopefully, things will continue to improve.
I saw my Lyme doctor for a check up on Tuesday last and he said that I'm recovering faster than any of his patients with "bad Lyme" (his name for it). I still have symptoms of all sorts but they are more mild now.  I got blood work done on Friday and the doc will check to make sure my liver and kidneys are holding up with all the high doses of antibiotics. If they are still doing ok, he says I need to do at least 2-4 more rounds of the antibiotics before he can begin discussing with me options for the transition to an herbal protocol to hopefully maintain my gains.   Also, some patients find that the Lyme begins to develop resistance to the antibiotics, and they need to switch up the mix of drugs.  Since my symptoms are going away, it appears that my Lyme bacteria is still dying off from the current mix.  So we keep going until they stop working.
I keep learning more about this disease.  It is sobering to think about but there is no known cure for 'bad Lyme' (also known as advanced Lyme or chronic Lyme or persistent Lyme).  The docs can only "cure" the early stage Lyme.   We need the feds to fund research badly!!  However, I do know at least one person who had 2 years of treatment and has now been symptom free for 20 years.  Two weeks ago, I heard a talk by one prominent Lyme doctor who has treated thousands of patients and he claims that 10% of his patients have become free of all symptoms and more than 70% have had improvement in symptoms.  He says only 20% have not responded well to treatment (extended antibiotic therapy).
I want to be in the 10% group of course and so far so good.
Since Neddy and the boys have had tick bites, including bites while we were in Venezuela last year, we asked our doctor to run blood tests (Western blot tests) on all of them.  We don't have the results back yet.
Please keep me, Neddy and the boys in your prayers and thoughts.  It helps so much.  I send love, light, and more love to you!!!  May you have a joy and love-filled holiday and winter in whatever way you celebrate.
Abrazos and love to you and your families, Tom