Book Review: Alabama Studio Sewing + Design
I got such a wonderful gift in the mail today!  Oh, Diane, Diane……  my obsessive knitter friend who showers with me with so many treats!  She sent me the latest Alabama Chanin book on Studio Sewing + Design.  So beautiful!
The whole thing is loaded with great images of process and ideas, showing how to use applique, bead work, and raw edges to achieve a wonderfully textured product: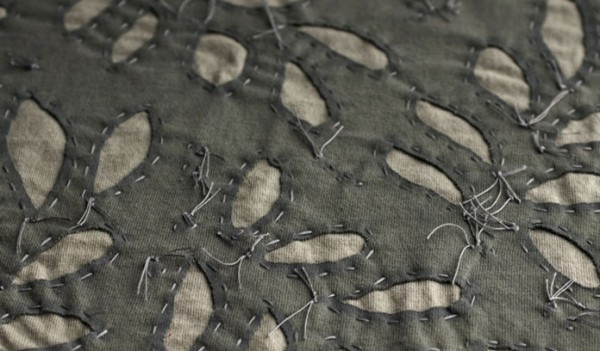 Why cut the threads?  Flaunt them!  And, as Natalie says, "Love them"…
Alabama Chanin designs seem rugged and "easy".  Natalie Chanin, company founder and visionary, even talks about how when she was young, she almost failed a home ec class, her teacher telling her that she would never, ever learn how to sew.  Yet, the apparent simplicity masks the hours of  labor, the careful placement of beads, thread, ribbon, and how the fabric is cut, scrunched, pleated or ruffled.  A clear and consistent vision ties all of the pieces together into an amazingly beautiful collection.  An expensive one, too………….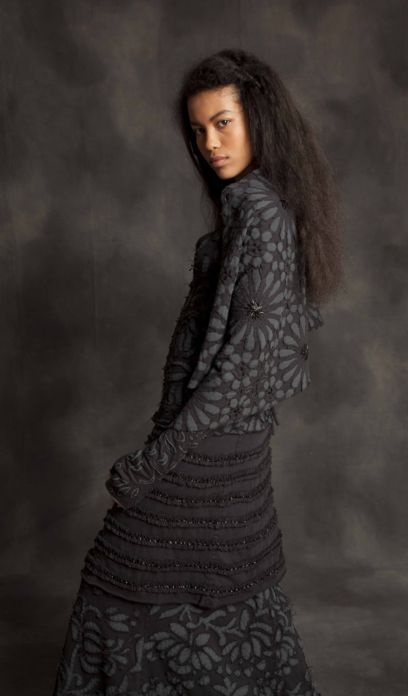 The long skirt in this image?  $3,250!!!!  I don't know anyone who can afford that.  That is more than twice the amount of money that I make in a month!  The thing is, there ARE people who can and do buy these beautiful garments at these prices.  And, what does that do?  Their dollars support a whole operation which embraces community, simple living, economic development and sustainability, right here in these United States.  While most handmade clothing designers look to India or China for production, Alabama Chanin's line creates jobs locally.  The cotton is all grown organically here as well.
Back to this book that I got in the mail today…  Natalie Chanin outlines this disparity between those who can afford her clothing and those who cannot upfront in the introduction.  Her solution has been to make her designs and techniques available to the public.  She gives free reign to "copying" and even supplies the kits to do it using the same materials!  Highly criticized by her peers for doing this, she looks back on the risk and explains that not only did this sharing increase public interest in her line, it also created a demand for the materials, kits, workshops and other products they have added on since publishing her first book.  This generosity of spirit and knowledge is rare, to say the least, in an industry characterized by competition, back-biting, and shallowness.
This video explains more in Natalie's own words:
 I have been a fan for many years now and hope that someday I can meet her in person!  Meanwhile, support this fantastic effort in any way you can.  Buy the book!
You will find it here:  Alabama Studio Sewing + Design
(And, THANK YOU, Diane!!!!)