PicMonkey! Easy Photo Editing
I recently subscribed to Artsy Shark which seeks to help artists promote themselves.  I've enjoyed most of the posts coming in, especially the one that introduced me to PicMonkey, a fun photo editing site.  I use Photoshop Elements to edit my photos and love it!  But, there are still so many things that I don't know how to do and some of them seem pretty labor intensive, even after watching tutorials and trying to replicate the effect.  PicMonkey offers a load of fun effects that can happen with a couple of clicks.  Here is an example: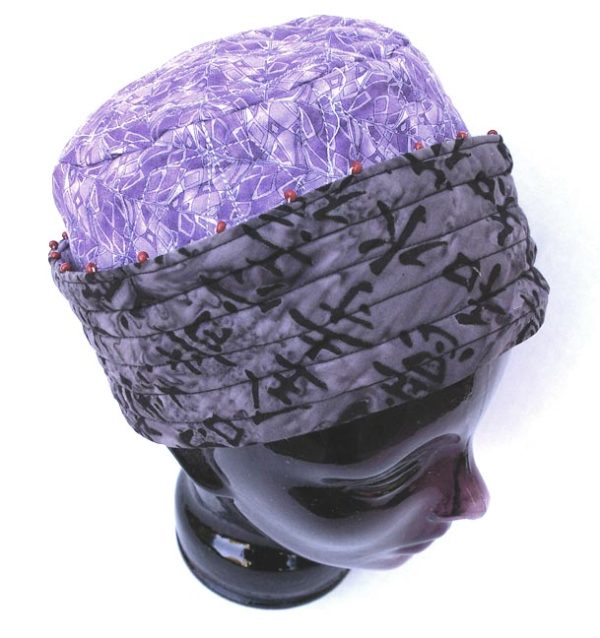 This is a hat that I have listed on Etsy.  (You can buy it here if you want to!)
And, here are some things that I did with it on PicMonkey: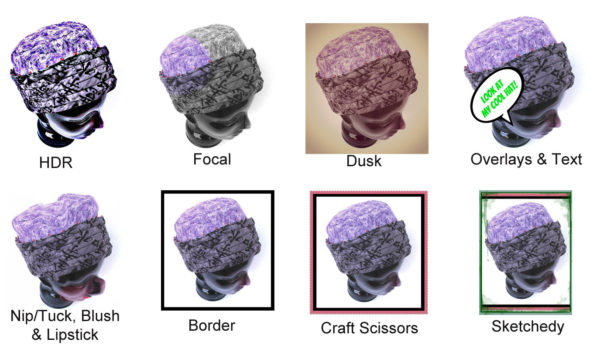 Those were just some quick saves.  Lots of grainy textures and color overlays to make photos look old or moody, frame combinations from simple to complex, and then fun stuff like Nip and Tuck, where you can make something fat or skinny.
Then, there are a bunch of collage choices that are really nice, including ready-made templates for a Facebook header and Pinterest-friendly layouts.  The Facebook banner size works perfectly with our TAFA banners so I have started to use it for that, too.  The collage frames can be changed around and that is not clear when you first look at it. By accident, I realized that I could remove fields and make them bigger or smaller.  Not intuitive and hard to explain, but play around with it and hopefully you will figure it out, too.  Start by closing one of the boxes and you will see the shape change.  Here is a quicky collage I made with some of my hats: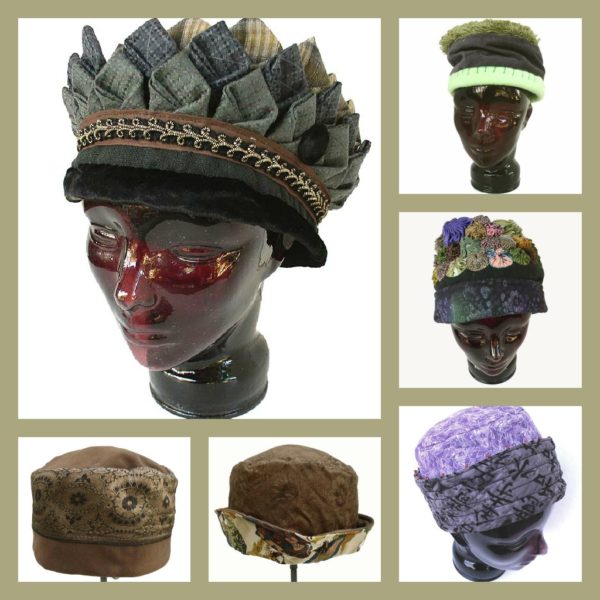 Watermarks
Another thing that I played with a bit, but didn't make an image of was the Overlays.  There is an example in that first set of hats where a cartoon box says "look at my cool hat!".  PicMonkey has a bunch of flowers and hearts and other things that can be laid over an image (thus overlay) AND you can also load your own!  This makes it very easy to design a nice watermark.  We have talked a lot about this on TAFA and how using a watermark is one of the ways to protect your images from copyright infringement online.  Here is a tutorial on how to do the watermarks on PicMonkey:  Click!
Downsides?
Yes, PicMonkey can do a lot but it is not a replacement for Photoshop.  I tried to make the hat sample in their collage templates and the borders got cropped off.  It also will not load bmp images, which means that if you would have to change the file type somewhere else first.  Still, I think this is a great tool to make beautiful product photos, banners, and collages.  There are notices on the site that they will start charging for certain effects soon, but for now it is all free.  Let's hope they keep it cheap enough for poor starving artist types!
See more examples on the Artsy Shark post.
More resources on PicMonkey's Flickr Group