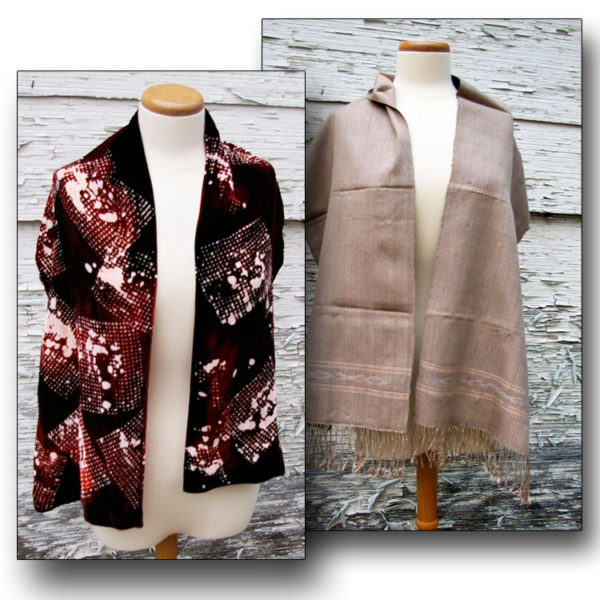 Two TAFA members sent me scarf gifts this year.  I always feel somewhat uncomfortable when someone wants to give me something like this, but then I think about how I can show it off and hopefully send them some business!  Plus, I truly love what they do and when you can wear something that someone made, it's like wearing a hug or having them close to your heart…  I've delayed in posting about this because I haven't come up with images that I really liked, but the ones I have will just have to do…
 

 

The first came early on in the year, a beautiful velvet scarf from Phillippa Lack of PKL Designs.

Phillippa has been painting on silk for over two decades, transforming her fabrics into stunning art quilts and accessories. As you can see from her photo to the left, this woman has an active muse! Isn't it just great? I would describe her work as soft and romantic, feminine with references to Nature. Here is a vessel that I just love:

Phillippa describes her path as semi-nomadic.  Originally from Jamaica, she somehow ended up in Wyoming.  Her mixed heritage includes the story of slavery on one side of the family with adventurous Scots on the other.  All of the ingredients for a best-selling novel or historical film seem to be there, transformed today into the rich pigments and textures of tropical memories. 

The scarf she sent me is bolder and earthier than most of her work and fits my personality and taste perfectly.  I believe this was done through a dye discharge technique.  You dye your fabric and then apply a chemical to remove the dye, revealing the original color of the fabric.  She stamped the velvet with the grid design, creating a visual texture.  I've seen this done with bath mats or other objects that can serve as a stencil or stamp.The scarf is warm and perfect in size, wrapping twice around the neck.  I've already  gotten a lot of use out of it in this chilly Fall and Winter weather.  Phillippa's website includes a portfolio of her past work, but does not show the scarves that she has available, so you will have to contact her and possibly commission her if you want one.

The second scarf arrived a few weeks ago, a gift from Ellen Agger and Alleson Kase of TAMMACHAT Natural Textiles.  Ellen is one of TAFA's pioneer members, jumping in from the get-go when we launched in 2010.  She has been actively engaged as TAFA has taken shape, offering invaluable feedback, sharing her experience with her business, and promoting TAFA often on her blog and Facebook page.Ellen and Alleson work with weavers in Thailand and Laos, operating under Fair Trade principles and combining ancient techniques with contemporary designs.  They take great care in honoring the weavers and in using green practices from the origin of the fibers to the completion of the products.  All of this means that the price point is higher than the mass produced scarves found readily on the market.  But, the difference is obvious and amazing.  The silk scarf they sent me is luxurious, tightly woven with a soft sheen, hard to capture in the images.

The scarf was packaged beautifully and included information on their projects.  You can see a flier for their Lao Book project for kids along with brochures on TAMMACHAT.

Ellen and Alleson divide their time between their home in Canada and working with the weavers in Thailand and Laos. Their website has a great selection of scarves and other woven accessories.  They recently began working with a designer making one-of-a-kind jackets using their gorgeous fibers.  Just beautiful!
I wore both scarves to a meeting with the Paducah Fiber Artists group that I belong to. Excessive?  Actually, it worked perfectly!  I like to wear head wraps and the silk scarf worked well on my head and the velvet one around my neck.  Yes!  I was decked out and loved it!
These two scarves also do a great job as symbols for my vision of TAFA.  Both the studio artist and the fair trade group are represented.  Although they may seem like very different populations, our needs are similar in terms of marketing and finding the right audiences who will support us in our journeys.  We serve a niche group who understands the importance of pursuing these life callings.  Without this support group, we cannot move forward.
Christmas is the biggest retail time of the year for all of us.  There is still time to support these two wonderful people in what they do as well as other TAFA members.  You can search the site by entering keywords on TAFA (www.tafalist.com), visit the member profiles, and learn about their stories.  Connect with these artists and project leaders and your life will be richer for it!  You can also find many of us on Etsy.  Just enter TAFA on Etsy's search or go here.  Need a scarf?  I'll make it easy for you: TAFA scarves on Etsy.  (over 500 choices!)